---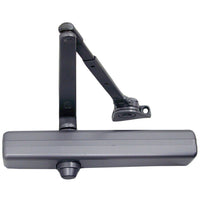 Description :
Product Details:
The LCN 1460 door closer has a double lever arm, includes a parallel arm shoe, has an aluminum powder coated finish, and is for use in medium duty applications on interior or exterior doors. The hydraulic cylinder is made of cast iron, has a forged steel piston for resistance to wear, and is certified for 1.5 million cycles. All-weather hydraulic fluid helps reduce the need for seasonal adjustment. The double lever arm can be installed for a regular or a top-of-jamb mount, or for a parallel arm mount with the included parallel arm shoe. The door closer is non-handed, for installation on doors with hinges on the right or left side, and includes a plastic cylinder cover. The spring force required to open the door is adjustable from sizes 1 to 6 for interior doors up to 60" wide, or exterior doors up to 48" wide, to help comply with the Americans with Disabilities Act (ADA) when properly installed. The aluminum powder coat finish helps provide resistance to corrosion. The door closer meets American National Standards Institute (ANSI)/Builders Hardware Manufacturers Association (BHMA) A156.4 grade 1 standards for commercial buildings. It is also Underwriters Laboratories (UL) listed for a 3-hour fire rating, and complies with the UL 10C positive pressure fire test.
Specifications
Cylinder
Cast iron with forged steel piston
Arm construction
Forged steel main arm, stamped steel forearm
Cover
Plastic
Mounting
Hinge (pull) side, top jamb (push), or parallel arm
Interior door width
24" to 60"
Exterior door width
24" to 48"
Maximum door opening
180 degrees
ANSI/BHMA grade
Grade 1
Cycles
1.5 million
UL compliance
3-hour fire rating, UL 10C
Commercial grade door closers mechanically return a door to closure for security, conservation of heating and cooling, and fire safety. A hydraulic cylinder attached to an arm regulates the speed of closure with separate adjustments for the door's sweep and latch (the final 10 degrees) phases of movement, and backcheck for opening resistance to protect walls and guard against wind gusts. Single lever (also called track) arms maintain a low profile when installed on either side of a door, while double lever arms provide greater mechanical efficiency. In either a regular mount (on the hinge, or pull, side of the door) or a top jamb mount (on the reverse, or push side), the double lever arm projects perpendicular to the door. A parallel arm mount must be installed on the push side, for the double lever arm to occupy the recess of the door frame when at rest for a low profile.
LCN manufactures door closers and other door hardware products. The company, founded in 1926, is headquartered in Princeton, IL.
What's in the Box?
1460 series hydraulic cylinder
Standard double lever arm
Parallel arm shoe
Plastic cylinder cover
Peel-n-stick installation template
Fastener pack: thru-bolt with self-reaming and tapping screws
Features
Medium duty, ANSI/BHMA grade 1 door closer certified for 1.5 million cycles
Double lever arm can be installed for regular or top-of-jamb mount, or for parallel arm mount with included mounting shoe
Adjustable spring force for use on interior doors to 60" wide, or exterior doors to 48" wide to meet ADA compliance
Non-handed arm permits installation on doors with hinges on right or left side
Aluminum powder coat finish helps provide resistance to corrosion
Specifications
Brand Name: Lcn
Size: Aluminum Powder Coat