---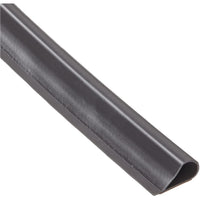 SiliconSeal is extruded from high-temperature silicone; effective between -58°F and 450°F.
Seal begins compressing at 1/4"; Compresses to seal up to a 1/16" gap.
Self-extinguishing and non-toxic; Unaffected by sunlight, ozone and ultraviolet rays.
Impervious to fungus and mildew; will not deteriorate under normal exposure.
Meets FAR 25.853 Airworthiness Standards for Compartment Interiors.